*MOJO* - BOS @ SEA - Iconic Cars Day 1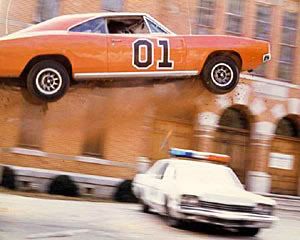 I hope Seattle hasn't gotten too attached to its watermelon carts, or its trucks carrying chicken coops. Because there is an orange streak of rebel spirit coming roaring over the next hill .
The General Lee always seemed to be careening out of control through the country side, as the Duke Boys once again sought to escape the long arm of Boss Hogg. While they seemed reckless and on the verge of crashing at any moment, each stunt was carefully planned and executed.
So while Jon Lester's stuff may seem like he is flying off the handle, or David Ortiz may seem like he is going to spin himself onto his ass when the bat ends up windmilling over his head, it is all a coordinated effort to bring the Red Sox another win.
That, and it's really fun to listen some country chase music and yell "Woooooo-Hoooooooooo!!!"