*MOJO* - BOS @ NYY - Egyptology Day 2
The rivalry once again resumes as the Red Sox roll in to Gotham to take on the Yankees. The two teams have been neck and neck over the past couple of weeks as they battle for first place, and this 4 game set could swing the balance of power in either direction.
The Red Sox need to assert their authority in the American League East, and nothing does the job of showing who's the ruling class like gigantic stone monuments.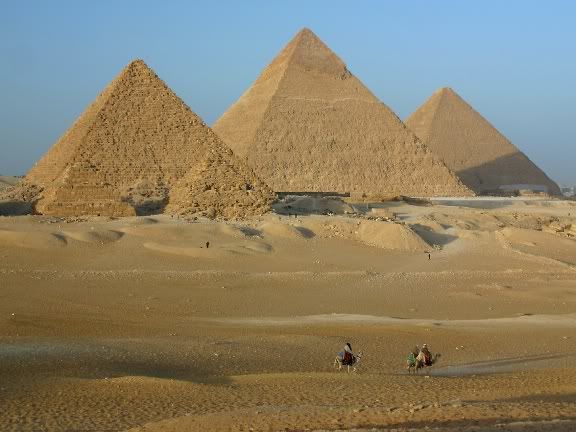 The Pyramids of Giza are not only monuments to long passed pharoahs, but also the pillars of winning baseball. The Pyramid of Khufu (or Great Pyramid) is for pitching, the Pyramid of Khafre is for hitting, and the third of the main pyramids, the Pyramid of Menkaure is for fielding. And while these make up the centerpiece of the complex, there are many more smaller structures that complete the site. The smaller monuments are for other essential components of Red Sox baseball: baserunning, man-hugs, applesauce, clutch home runs, and of course, the monument to their ever-growing fan base. Not to mention the Great Sphinx, whose origin and subject are still shrouded in mystery. No one is really sure what the Sphinx is in tribute to. Some say that's just the Sphinx being Manny.