*MOJO* - BOS @ BAL - John Travolta Day 3
The Red Sox have been cruising this week, extending their win streak to 13 games over the Orioles. The offense is carrying them, as it is now running like a finely tuned machine. You may even say it is running like Greased Lightning!
Grease mojo rolls in to Baltimore with it's pompadours and poodle skirts, as well as it's illustrious hand jive. Hand jive mojo will be especially important to Doug Mirabelli, as he tries to keep a handle on Tim Wakefield's lively knuckleball.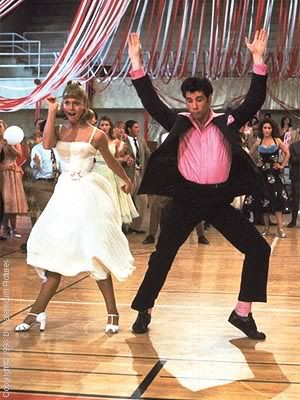 Of course, Dougie will get bonus mojo for owning that exact same suit.
So roll up your cigarettes in your sleeves, and every one get ready for some spontaneous breaking in to song, for the musical has begun. I hope you like choreography. I know Manny does.