Mojo runs year round
Lest anyone thinks I take the responsibility of writing Mojo lightly, fear not, for I give the careful consideration something of such dramaic importance deserves. With that in mind, you never want to start the season cold, so I asked the members of
RSN.net
if there was anything they could use some Mojo for that I could use for my own Spring Training. Here's what they had:
From Preacher:
"I have an exam this Friday and a paper due next Friday, then spring break. I need some mojo to help get through the next two weeks. After that it's Spring Break, baby!"
The dreams of living the good life are pretty common. Every one wants the chance to relax in the sun with a drink prominently featuring an umbrella. For some, those dreams are a little closer to reality, clutching their tickets in hand for Cozumel, or Daytona, or some other warm, humid place where "wind chill" means something featuring juice and liquor (more one than the other). But these trips don't come free, and it's the hard work that goes into them, whether it's working overtime to cover the cost or doing your school work so you can enjoy it with a clean conscious, which makes them so enjoyable.
With this in mind, we turn to the grizzled spirit of those who too had great dreams of living the good life, and were ready to do the back-breaking labor for the chance to get it: it's
Prospector Mojo
.
Thousands made the rush out west in the mid-19th century in hopes of striking pay dirt and living the good life, as financed by some shiny nuggets of gold. Prospectors, with their grizzled beards and the confusing language all their own (consarn it), could pan a river for weeks, or pick through tons of rock in hopes of hitting pay dirt. It is this willingness to trudge through a lifetime of rough manual labor in the hopes of getting those little nuggets to make your dreams come true.
The prospector lives on, but instead of a pan and pickaxe, it's a laptop and a #2 pencil. And it's not gold you are hoping for, but the peanut butter and chocolate like combination of beer and boobs. Keep mining away, young Preacher, because it's only a matter of time before you strike gold.
Hope that helps get you through to Spring Break, Preacher.
---
From Kettleer:
"NU- My school's basketball team is starting the conference tournament tonight. We havent had a winning season in 12 years and all of a sudden this year our new coach turned it around and now the Coastal Carolina Chanitcleers are the two seed in the Big South tournament. If we win this thing I am taking a much dreamed of road trip to a NCAA tournament city. We need the MOJO!"
If you aren't familiar with the Chanticleers (pronounced SHON-ti-clears), well, you are not alone. Count me as one unfamiliar with the small South Carolina university, located right near Myrtle Beach. However, with a name like "Chanticleers", it very quickly grew on me.
For those not "in the know" the Chanticleer name comes from Chaucer's Canterbury Tales. More specifically, he comes from the Nun's Priest Tale, a story within Canterbury Tales. The Chanticleer is a proud and fierce rooster who dominates the barnyard. A philistine like myself might not identify with the reference so well, so instead I draw upon a different pop culture rooster: Egghead Jr.
Egghead Jr. was a little chicken with a mighty big brain. Smarter than everyone else, his vast knowledge (far beyond his age group, not to mention his species group) proved to be a great asset. Not only could he crunch numbers with the best of them, but would routinely apply them to excel at sports.
He quickly outlasted and outperformed his sporting mentor, despite the fact that this rooster was far his senior. Due to his diminutive size and lack of experience, he was overlooked and dismissed, but he could far outperform these expectations. He may not have been a big rooster, but he sure played like one. And if this weren't enough, Egghead's mentor was not only famous in his own right, he even played basketball with one of the greatest Carolina college players of all time, on the All-Star Tune Squad.
A little championship pedigree never hurt anyone (just ask the Mon-Stars). And, I do say, neither did a little bit of true Southern gentleman/rooster charm.
Just like the overlooked and disrespected Egghead Jr., it is time for the Chanticlears to shine. Here's to the continuation of their Cinderella season and the chance to earn a bid into March Madness.
Go Chants!
---
From rominer:
"
It rains roughly 5-6 times a year in L.A.
I have roughly 4-5 BBQs a year.
It rains at roughly 3 of these.
I am having a BBQ on Saturday.
We got about 4 1/2 feet of rain yesterday.
The 10-day forecast calls for rain on four of the next ten days.
As you may have gathered, I need BBQ mojo. Or dry weather mojo. I just need mojo, dammit.
"
For pleasing weather, I present to you: Elita Loresca Mojo.
She's the weather forecaster for Channel 7 out of Fort Lauderdale. And she seems as pleasent and friendly as I hope the forecast treats you this weekend.
For an excellent BBQ, I present some Grill Mojo
Some mojo for you to put on a show with your grill that people won't soon forget. And since I am such a fan of the smoked/flame grilled varitey of meats, some extra sauce mojo. Because as Papi (and maybe SSA) would say: You need more flava.
If my mojo works, have a beer for me. If it doesn't... have 6-10 beers for me, however many it takes you to think grilling in the rain is a perfectly reasonable idea.
---
From Tessie:
"
OK NU...I need some MAJOR mojo. The DH and I have been house hunting for close to a year and either haven't found anything in our price range or anything that we liked. That is until today. We looked at a house that I really, really love. Lots of space (for guests), pool, great location, etc.
So now we're getting ready to make an offer, talk to banks, etc. All that ugly stuff where things can go wrong.
I need some big time finger crossing, good luck.
So get to work man !!!! If your mojo works, you'll have a free place to stay in the Virgin Islands.
"
Given that any place Tessie and her hubby live on the Virgin Islands, I would imagine that any one of them would be nice. Especially when compared to the negative degree wind chills we've had up north all week. This doesn't mean, however, that Tessie should not want to move on up, perhaps to the East Side. Someone as wonderful as Tessie deserves to live in a deluxe apartment in the sky. She and her husband deserve to move on up and perhaps finally get themselves a piece of that pie.
Of course, the plan was to subtly continue making references to establish some Jeffersons Mojo, but
Jeffersons Mojo
is just too damn fun to keep down. That theme song just happens to be one of those things that is far too fun sing. So, if you'll allow me to indulge myself, I'd like to flip down my goggles and sing some karaoke Dave Chappelle style:
Fish don't fry in the kitchen;
Beans don't burn on the grill.
Took a whole lotta tryin'
Just to get up that hill.
Now we're up in the big leagues
Gettin' our turn at bat.
As long as we live, it's you and me baby
There ain't nothin' wrong with that.

Well we're movin' on up (movin' on up),
To the east side.
To a deluxe apartment in the sky.
Movin' on up (movin' on up)
To the east side.
We finally got a piece of the pie.
I'm smiling just TYPING that out, much less getting to sing it out loud. And that's what Tessie's mojo is all about, being so irrepressibly fun that you just can't ignore it (not to mention generous, I am still amazed at the picking up of one particularly hefty bar tab, it took five guys with lab coats, clip boards and safety glasses four and a half hours to tabulate that thing). It is this attitude which means Tessie deserves, no, I take that back, is OWED a swinging new pad to live in. If anyone should get a bigger slice of the pie, it's this woman, and don't think mojo hasn't noticed.
Of course, having earned a new house and actually being able to purchase it are two very different things. Which is why for such a daring endeavor we need not one but two bits of mojo. And the second one comes courtesy of Chris Matthews.
Hardball Mojo
says when the time comes to sit down and nail down the details: don't be afraid to (fiscally) kick some ass, deal out an severe amount of (economic) punishment, and to maybe make a few people your own personal bitches (with a low APR). Make sure you go in there and take no prisoners and/or unreasonable down payments.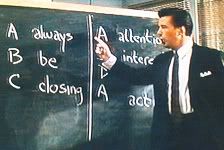 Here's hoping mojo can help get you in to that new dream home, and in turn, get me in to that very same home. I may have to take you up on that offer visit the Virgin Islands some time… it sounds nice there, all though it's hard to say exactly what it is that is so appealing. Now if you'll excuse me, I have to go put on eight extra layers of clothing to walk across the street to buy a beverage.
---
From
PineTarHelmet
:
"
I'd like some 21st birthday mojo, if you could do so
"
TWENTY FIRST BIRTHDAY MOJO
Our own little Piney is going through a right of passage today: from angry, profanity laden "What Annoys You" posts to angry,
drunken
, profanity laden "What Annoys You" posts. Of course, a 21st birthday is certainly nothing to be taken likely. In fact, to help guide you through tonight's festivities safely, I would suggest bringing along a helpful guide to make the most of today. And who better than someone who shares March 5 for a birthday: Dean Stockwell, better known as Dr. Sam Beckett's hologram guide Al from "Quantum Leap".
Now clearly, it being the big 2-1 for you, you are going to be drinking. Bar hopping is a time honored tradition, and you would be remiss to not have such an experience. The best part about it being your birthday is that you shouldn't have top buy yourself a drink all evening. Of course, don't forget birthday etiquette: you have to drink whatever anyone puts in front of you.
Ziggy says as long as you put a good faith effort to down all the drinks put your way, there is a 92% chance you'll have a great time. Of course, there is a 43% chance you won't remember it.
So remember, heed the advice of Peter Griffin, just keep drinking until you can't feel feelings anymore. You cover that, and that's pretty much all you need for a great 21st.
Happy Birthday Piney, hope this birthday brings you good times, plenty of booze, and maybe even a little action from cute A's fan... who is hopefully more appealing (and less scary) than Bobby Kielty.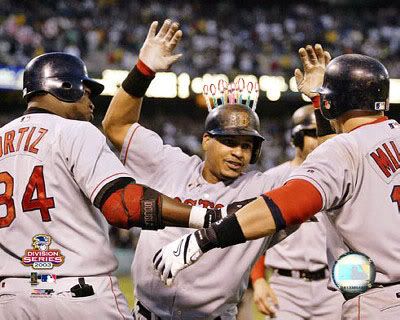 ---
Mojo looks out for the residents of RSN, even in the offseason. Season starts tomorrow, and I couldn't be more excited.