*MOJO* - BOS vs TB - Hair Bands Day 3
Boy, can that little ballpark sure get loud. When the Fenway faithful get rolling, their sound can be deafening. There's nothing quite like a walk-off home run to get the crowd to "Bang Their Head" and invite them to "Cum On Fell the Noize".
Too obvious? Well, whether or not I know how to be subtle, you guessed it: it's time for a Quiet Riot.
Matt Clement and Casey Fossum match up in a good ol' fashioned "beard-off".
The edge has to go to Clement, if merely for his extensive experience at wearing a beard, and for the fact that he is not Casey Fossum. The key match up of the game will be between Fossum and the left/right chin strap combo of David Ortiz and Wily Mo Pena.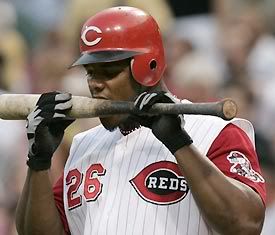 And no, I don't know what Wily Mo is doing in that picture. But something tells me making out with your bat is pretty darn good mojo.