*MOJO* - BOS vs SEA - Hair Bands Day 1
For the past two days, despite some excellent pitching performances, the Red Sox are sitting at only 1-1 due to only managing to score 2 runs in those 2 games, both off the bat of Alex Gonzalez. The bats seem to be stuck in idle, and will need to get in gear to overcome yet another lefty on the hill: Jarrod Washburn.
And if you need someone to "Kick Start (Your) Heart", than look no further than the boys of the Crue.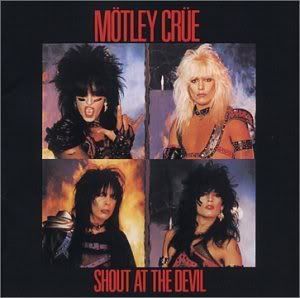 Whether it's riding a "custom built bike at 103", or "sky diving naked from an aeroplane", Motley Crue knows what it means to rock. The offense lately has been getting pushed around by pitchers that, quite frankly, they shouldn't be. To steal a line from Rowdy Roddy Piper from "They Live", they need to remember that they do two things well, score runs and chew bubble gum, and last time I checked the clubhouse, they are all out of bubble gum (I think it's all on Papa Jack's head).
So when the opening strains of "Kick Start My Heart" come blaring through the Fenway PA, you'll know it's game time, and the Red Sox will be ready to rock. And if Manny has to undue his natty dreadlocks and tease up his hair with a bottle and a half of Aquanet in order to get rolling, than so be it.