*MOJO* - BOS @ TOR - Espionage Day 1
We've got problems here in mojo world. Yesterday's attempt to unlesah some firepower worked pretty darn well, with the Red Sox hitting 4 home runs, including Jason Varitek's first, Manny and Ortiz going back-to-back, AND Manny hitting another home run for his first two of the year. Easy coasting to the win after that, right?
But wait, the Blue Jays hit 4 home runs as well, including 2 by Vernon Wells. How could this be? The unthinkable has happened: someone is trying to steal our mojo!
It seems those dastardly foes from the north are attempting to usurp our mojo for their own purposes! There's only one hope of saving mojo: revert to emergency encrypted mojo while we look for enemy spies.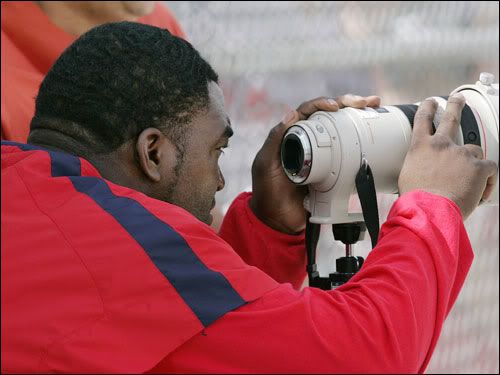 Ithway Ennylay Inardoday akingtay ethay illhay againstway ormerfay Ycay Oungyay innerway Oyray Alladayhay, ethay Edray Oxsay areway oinggay otay eednay allway ethay elphay eythay ancay etgay. Ooklay orfay Annymay andway Ortizway otay eadlay ethay ayway againway, asway ethay Edray Oxsay ooklay otay improveway onway eirthay AL-WAY Eastway eadinglay ecordray.
Ogay Edray Oxsay!