*MOJO* - BOS @ TEX - Winter Wonderland Day 1
It snowed today in Boston. Snow. In April.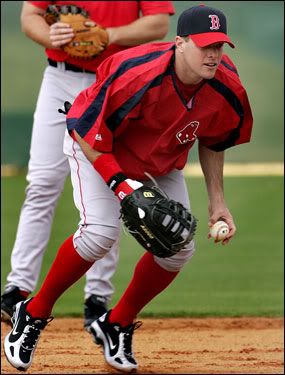 You know what that means: break out your snow pants its Winter Wonderland Mojo! Look for the new guy, Josh Beckett to show off the ice that runs through his veins as he cooly breezes through the Rangers lineup, using his good heater and then freezing them with his breaking pitches. The Rangers hitters will sure to hit a cold streak when going up against him as their bats ice over and they are forced to warm the bench. Meanwhile, look for the Red Sox offense to shatter some shots into the stands and shoot frozen ropes out to to the gaps.
In case you haven't all ready guessed, today's mojo has been sponsored by the National Pun Council.
All punning aside, things are looking good for the Red Sox as they go up against right hander Kameron Loe. Because after all, what is "Loe" but simply "Lowe" without the W, a W which will belong to Josh Beckett tonight. Let's see if Manny can issue in the debut of the "Kameron Loe" face.
And lest I forget, the latest feature on "Little Known Facts about new Red Sox players" is none other than today's starter Josh Beckett.
- Scouting reports say Josh Beckett's sinker tops out at 94 mph. This is not entirely true. He can throw it much harder, but chose to dial back after it began diving so hard it burrowed under home plate, costing the league a considerable sum for replacements, as well as making it very easy for runners to steal bases as the catcher attempted to dig it out.
- Josh Beckett won the 2003 World Series MVP in the Marlins victory over the Yankees. It was this loss that sparked George Steinbrenner to steal Alex Rodriguez from the Red Sox the following offseason. A-Rod, of course, then played an integral role in the choke the following year which led to the Red Sox becoming the 2004 World Champions, earning him honorary #26 status among "the 25" so revered by Sox fans (Sully from Quincy says: "We couldn't have done it without you, Slappy."). So, in a way, Josh Beckett is directly (arguably solely) responsible for the 2004 championship.
- The television show "Quantum Leap" was based on Josh's uncle Sam, who has a doctorate in Quantum Mechanics and String Theory.
- Josh has a pet puppy named "Patches". Patches throws 93 with a decent curveball. Scouts say that if his control progresses and he can develop a third pitch, he may project to a #3 starter by the time he is 3.
- Beckett has found a new friend and mentor in veteran start Curt Schilling. During the off-season the two attempted to get to know each other better. Beckett invited Schilling to a backyard Texas BBQ, while Schilling set up Beckett as the new Paladin for his Guild in his favorite MMORPG Everquest II.
Here's to the Sox winning the first series of the season.