**MOJO** - Time Travel Day 2
Mr. Peabody and his boy, Sherman, return with their fantastic wayback machine for another mojo finding mission back through time!
And today, inspired by the hard work ethic of today's starter Tim Wakefield, we go back to the old west to find mojo amongst the hard working homesteaders, outlaws and sheriffs of the American West.
The Old West is full of sources of mojo to help the Red Sox take 2 of 3 from the Yankees. The rubber game itself feels like the Red Sox are Wyatt Earp walking into the famous gunfight at the OK Corral to settle the feud with the Clanton Gang.
Of course, that fight ended with three Clanton Gang members killed, while the three Earp brothers along with Doc Holliday all survived.
The West was also home to the famous outlaw: Billy the Kid. A notorious gunslinger, Billy the Kid nicknamed had two guns: "the Thunderer" and "Lightning". The Sox could use a little thunder and lightning from their own Billy the "
Yankee Kueller
".
All though, upon closer inspection, Billy the Kid looks more like a young Trot Nixon.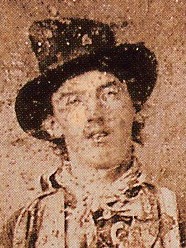 So, I guess they both can chip in. Another key to the Red Sox winning will be for Wakefield to be able to pitch deep into the game. With a limited number of reliable options in the bullpen, quality innings from the pitching staff are at a premium. So like the first intercontinental railroad, the Red Sox will need quality pitching from one end of the game to the other.
Hopefully the Red Sox can end the game with a golden spike of their own in the bottom of the ninth. And lastly, for all those who panicked after Friday night's embarrassing loss, and to those who were bracing themselves for what they thought was a choke, we bring mojo from the great writer Mark Twain.
For Mark Twain, in one simple telegram, provides all the mojo Sox fans need who are beginning to feel anxiety creep up on them: "The reports of my death are greatly exaggerated."
If you'd like to participate in some Frontier mojo, and you don't have a ranch, covered wagon or miles of open prairie land to travel, might I suggest sitting back and enjoying your favorite Western. If I might make a suggestion, "The Good, the Bad and the Ugly" is perhaps one of the finest films you could ever enjoy watching.