**MOJO** - Breakfast Cereals Day 5
While going for the clean sweep of the California Angels (it's just easier that way), the Sox will be looking to make some noise. After all, it was a sweep of these very same Angels at the start of September last year that helped catapult Boston to the World Series, and a sweep here would do much to calm the nervous nellys of Red Sox Nation. And when you are looking for a little noise from your breakfast, there is really only one cereal for you.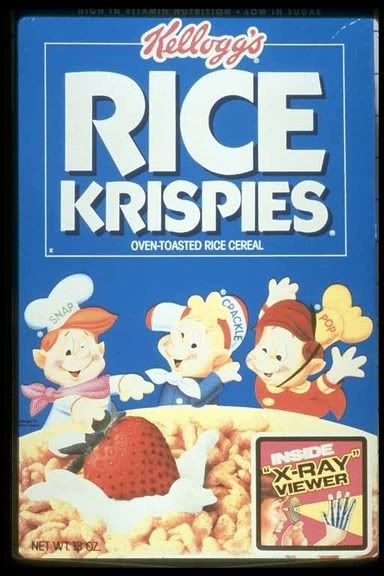 Rice Krispies pack that Snap, Crackle and Pop to start your day off right. And it is those very same elves that the Red Sox will need to draw mojo from if they want to win today.
Snap: For Matt Clement, so he might snap off his breaking pitches effectively and shut down a potent Angels lineup. Maybe snapping a few bats in two wouldn't hurt either.
Crackle: Crackle is the more overlooked of the three sounds, with snap and pop getting your attention, you might miss the persistent crackle that permeates the air. That's why crackle is for heads up play in the field. With the Angels aggressive style, it is nearly a guarantee that at least a few plays a game that the difference between getting an out and allowing a run is going to be a sharp play. Crackle is for being aware of the play and getting yourself in position to make it.
Pop: It's pretty clear what Pop likes: power. A little pop in the Sox bats would be nice, and with Paul Bryd on the mound (who's given up 4 HRs in 2 Fenway starts), there should be the opportunity.
Time to go complete the sweep, and for the player of the game today: all the Rice Krispie Treats you can eat!