**MOJO** - Sandwich Day 6
If you were a sandwich what kind of sandwich would you be? I think I would be grilled cheese, but lucky for the Sox, I am not starting today's game (I've yet to perfect my sidewinder delivery, so my control is pretty awful, not to mention that I'd be lucky to crack 60 with my fastball). It is Tim Wakefield going today, and Tim Wakefield is not a grilled cheese. He is a peanut butter sandwich:
Why peanut butter? Because peanut butter is reliable, delicious, and most importantly versatile. Add some jelly, and peanut butter makes one of the easiest and best sandwiches around. It can even come from the same jar, cutting your knife's work load in half!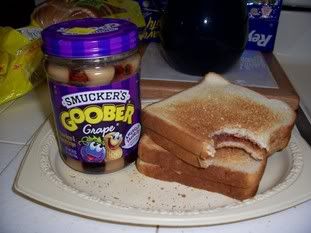 That's Tim Wakefield the starter. Always dependable, there when you need him, usually can give you a quality start and will eat up innings just like eating a PBJ will fill your stomach. Of course, sometimes there is a need elsewhere, and something a bit, shall we say, fluffier is in order: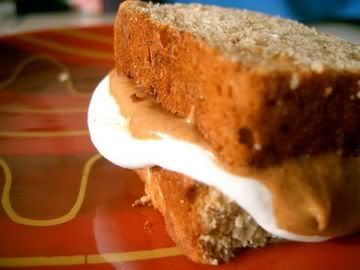 Just like when you need something sweet and fluffy to delight your tastebuds, Wakes has been known to take his fluttery knuckleball out the bullpen to help out the team. However, today, Wakefield is neither a PBJ or a Fluffernutter, he is a whole different kind of peanut butter sandwich all together:
Sweet fried peanut butter and banana, a favorite of Elvis Presley. Why fried peanut butter and banana? Because they may be the Royals, but there is only one King.
And just when you thought you couldn't get enough mojo, here's a little extra. The fantastic return of Birthday Mojo, for today is Tim Wakefield's 39th birthday. He shares his birthday with Peter O'Toole, Wes Craven and Olympic medal winner Linda Fratianne. What do these people have in common? They were born on August 2nd, and they are winners. Another list: Ross Perot, Gen. George McClellan, Runelvys Hernandez, Maurice Levy, and Greg Norman. These people were not born today, and they are losers.