**MOJO** - Smurfs Day 2
What's smurfier than a win coming from smurf mojo? Two wins coming from smurf mojo!
Smurf mojo continues with the resident beefcake of Smurf Village: Hefty Smurf.
Distinguished by a heart-shaped tattoo on his arm. Hefty is the strongest Smurf in the village. He exercises, he is a sportsman and has even organized the Olympic Smurfs. One can always depend on him if there is any hard work to be done.
Hmm... Unreasonably strong. Wears his heart on his sleeve. Excellent sportsmen and athlete. Can always be counted on to come through when needed most. Does this remind you of anyone?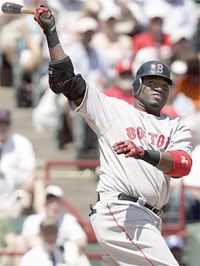 Look for Papi Smurf to knock the smurf out of Bruce Chen (also known as Journeyman Smurf).
"Back! Way back! That smurf is gone!"