**MOJO** - Fruit Day 3
Today the Sox begin an important trip through Baltimore before the All-Star break with the chance to put some distance between them and the rest of the AL East. The Orioles have been fading a little of late, but they are a team that has been known to give the Sox trouble, so they will be needing a host of mojo for this game. That's why today's mojo is brought to you by apples.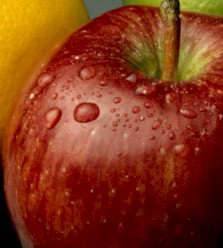 David Wells: For you, we have a Golden Delicious apple. This all purpose apple is mellow and sweet and perfect for baking as well as snacking. Here's to you cooking up something good with a refreshing pitching performance, going deep into the game to allow our bullpen some more rest as things get sorted out out there, as well as the mellow disposition to avoid another "incident" with the umpiring crew.
Johnny Damon: A basket of 22 Granny Smiths await you. It's tart and sharp, for crisp play in the outfield and maybe a sharp base hit you can leg out to extend the streak.
Kevin Millar: A Fuji apple is for you. They come from Japan, but now are produced more in the US (sound familiar?). They are round and sweet, the perfect thing to take away the bitterness of this trade talk we've been hearing. Take another pitch the opposite way for an XBH and every one will start to feel much better.
John Olerud, Adam Stern and Kevin Youkilis: A Cameo apple for each of you. Continue to produce meaningful results in the limited time afforded you. It is guys like you that bring the team long term success.
David Ortiz and Manny Ramirez: Nothin but Red Delicious. The most popular of apples is widely adored, and perfect for snacking or baking. It is the core (yay, apple puns) of the apple bunch, and it's heart shaped appearance likens itself to the two members of the heart of the Red Sox lineup. Here's to David hitting a HR in his fourth straight game, and to Manny hitting his 4th Grand Slam of the year.
Phew, that's an awful lot of apples. Enjoy your fruit salad, your apple pies, apple crisp, apple snacks, appletinis and especially your applesauce as we help the Sox make it 3 wins in a row.