**MOJO** - Colors Day 2
We continue the wonderful collage of color with another one close to the Sox: Green
Much like "red", "green" is another important color to the Red Sox.
However, the direct links are boring, mojo is all about the little details. Other ways that green will help propel Boston to it's second straight victory.
Leprechauns bring the Luck of the Irish, as well as the tasty Lucky Charms that were so helpful yesterday. Much of the success in the game of baseball is dependent on simple good fortune, and who better than these pint-sized Irishmen to help bring it to Fenway.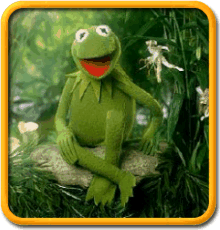 It ain't easy being green. But somehow, this lovable frog has been one of the most popular amphibians in Hollywood for decades. Even today, he is still bringing home the bacon (**wink**). Sometimes, it isn't so easy playing in Boston either, but persevere like Kermit and you too will find your own proverbial (or even literal) pig to love you.
This one is for Matt Clement, and it has nothing to do with his paycheck. Clement didn't get a whole lot of attention prior to this season, but that doesn't mean he didn't deserve some. To steal a line from
Swingers
, "You're so money, and you don't even know it."
Finally, some nice green grass, for what else: great fielding. It's the long ball that makes the ladies swoon, but its slick fielding that feeds the soul. Here's hoping we get to see some web gems turned in by the Sox in today's game.
Break out the St. Patrick's Day gear in celebration of today's mojo. Sit back and enjoy a fenway frank with some
green ketchup
and maybe some relish, a crisp dill pickle, a fresh salad, maybe a twist of lime with your cocktail of choice. It's green mojo today, and you know the New York fans will be jealous they don't get to join in on the fun.