A Day at Fenway
I spent my Wednesday afternoon calling into work and spending the day at Fenway. The game was fantastic, with the Red Sox scoring 6 times in the first and never looking back. Got to see a little of everything, most notably the Red Sox debut of Tony Graffanino as well as the return of Adam Hyzdu. Seemed everyone was having a nice day at the plate today, even Millar had himself a couple of hits.
The only person not having a good time was the gentleman sitting next to me. He was a NYY fan "scouting for center fielders". Of course, he was also wearing a brand new Sox hat, for he made the mistake of betting on the Yankees in last years ALCS. He was a nice enough guy though, and we had a lengthy conversation about Cabrera and Bernie's troubles out in center this year. It also turned out that he and his friend had the same alma mater (Villanova) as the elderly gentleman in front of us, albeit in classes 40 years apart. The two friends started a new bet during the game regarding Matt Clement, the loser of which will be forced to wear a custom jersey of the opponents team. Should Clement win 17 this season, be looking for the unhappy guy in the Sox jersey with the name "One Day Only" on the back at Fenway next season.
This game also featured the batted ball which came closest to me in my lifetime. Johnny's HR landed only 15 feet to my left in the aisleway (my seat was in the last row of the lower box). Had it come over my head, I would have made the layout bid. This replaces the game in 1996 when a foul ball went over my head in the seats along the right field foul line. This did give me a faceful of Jose Canseco, however.
I only have one regret: that a peanut guy didn't make his way into my section during the later innings. I really wanted to see how accurate they were with those peanuts, so I was going to buy a bag for someone in the upper section to see if he could hit them. Specifically, I was hoping for someone on the cell phone, as my brother and I were willing to pay him double if he could knock the phone out of their hands. That would be a memory to cherish forever.
The following are some pictures I took during the trip. I'll omit the ones which consist of "see those blurry 14 pixels? That's David Ortiz".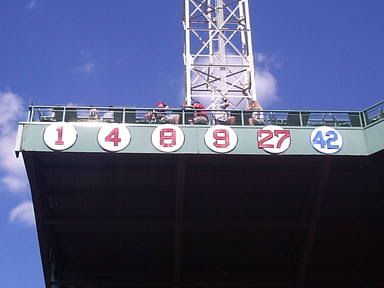 Our seats had were located right below my favorite giant numbers in the city. I ended up going home with a Fisk jersey shirt (New Hampshire love, and all). Of course, I also got a Wakefield one. My brother opted for the red Johnny Damon. I tried to talk him into the one with the pink lettering, but it was a no go.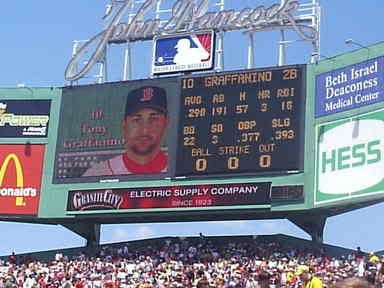 The scoreboard for Graffanino's first Red Sox at bat. What made me particularly happy was as he was coming out of the batters box, I mentioned that this was the new guy coming up to the plate. The guy in front of me (who was there with his two very attractive daughters) asked if I knew anything about him, to which I responded to a short synopsis of his playing abilities, including a note that he had an OBP in the high .370s. To which he replies "oh, look at that", as the scoreboard pops up with the above screen, confirming my numbers. Made me proud to be one of the cliched "knowledgeable Fenway Faithful". If only the cute girls got totally hot for statistics (which they almost certainly never do). Also, there was a nice moment when Graffanino (who really needs a nickname) hit his RBI double and Fenway gave him a standing ovation.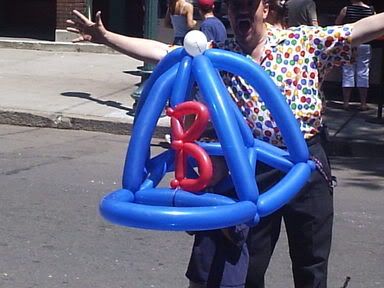 I swear, there's a kid somewhere in there. And I am totally jealous of his hat.
I've been hearing radio advertisements about the new powerade bottle that's "so comfortable" that you just have to hold it to understand. I naturally thought that the claim must be total bullshit. Well, I can now tell you that it is not, and that this was the most comfortable bottle I have ever held. Kudos to you, Powerade! And speaking of beverages....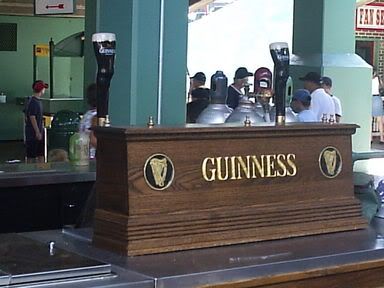 Is there anything sadder than a Guinness stand with no attendant? I nearly wept right there in the concourse.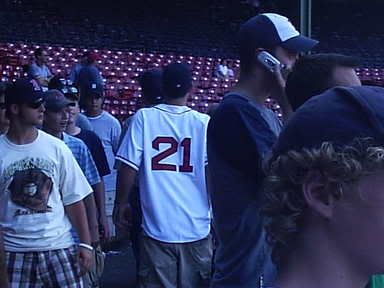 And finally, here's something I never thought I'd see in Fenway: a replica Clemens jersey. It looked new too, he must have ordered it special. I don't know if this means he is just a huge Clemens fan, or a total d-bag... or both. It's a real toss-up.
I had an absolutely fantastic time at the park, and would like to thank
Empyreal's
boss for creating the opportunity for me to go.