**MOJO** - Come-uppance Day 4
Stan: What are you looking at, nerd?
Booger
: I thought I was looking at my mother's old douche-bag, but that's in Ohio.
That's right folks, bust out the horn-rimmed glasses and the pocket protectors, time for some Revenge of the Nerds style come-uppance. "But wait, NU!", you say, "the Boston Red Sox are a BASEBALL team! That's the very essence of jockdom! You have cursed us all!"
That may be, but you are forgetting: this Red Sox team is quite possibly the nerdiest team in the history of MLB. Permit me to explain:
Exhibit A:
Curt Schilling
. He's been kown to post on internet message boards. He stays up all night playing Everquest. He's even an admitted Dungeons and Dragons player. If you'll allow me to indulge myself for a moment: NEEEEEERRRRRRRRRDDDDDDDD!!
Exhibit B:
Lewis: "Jocks only think about sports, nerds only think about sex." Remind you of anyone?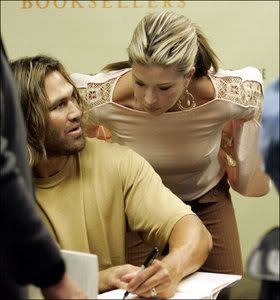 Exhibit C:

Exhibit D:
Theo Epstein. Classic nerdlinger done good. He even went to Yale. Just look at this picture of him:
He looks like he fits right in.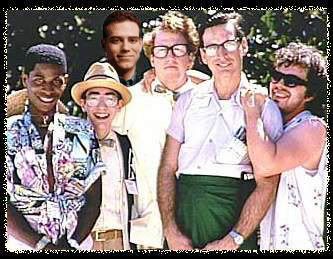 Nerd mojo is quite clearly on our side, so lets stick it to those Alpha Beta/Cleveland Indian jerks. It's nerd mojo all day today. Cheer along with me:
**clapping** Nerds! Nerds! Nerds! Nerds! Nerds!