Of Dogs and Men
I got a new dog this week. He's a Boston Terrier, he's three, and he has only two settings: sleeping and tearing around like an idiot. He just got rescued from a puppy farm with 3 other Boston Terriers, where he was being pimped for his man juice as the only male around. I'd feel bad for taking him out of such a plush environment (bitches in heat, 24/7) if it weren't for the fact that it was a puppy farm run by assholes. Besides, he got fresh baked chicken today straight from the oven, so he's making out all right.
However, the little guy needed a name. I figured it had to be the manliest name I could think of given a) his former profession and b) his diminutive size. He weighs in at a robust 11.2 lbs. (well, 11.2 minus balls, now), and is still underweight. He makes a nice pair with my cat, who has grown fat due to stupidity (not an exaggeration, but that's another story). Long story short, he's only about half the size of the cat, so he needed a name to try and compensate for that. That and no one likes wussy names. I even employed the help of my closest
internet friends
(reg. required).
Here's the list of my favorites (credit given where due):
Thanatos
Kentucky Rage
Ace Jumpjet
Clint Doomsday
Gunsmash Punchface
Captain Edward Woofington, III. Prime Minister of Puppertonville (courtesy of "fenwayfaithful")
Cabrera (not that I'm biased)
Maranville (After Rabbit, who was born in Springfield, MA and played primarily for the Boston Braves. "Walter 'Rabbit' Maranville compensated for his lack of size with an overabundance of spunk and determination. Over his 23-year major league career, spent exclusively in the National League, the wide-ranging Maranville accumulated a record 5,133 putouts and developed a reputation for his eye-popping "basket catches." In 1914, he finished runner-up for the MVP Award as a key member of the 'Miracle Braves.'") (courtesy of "Empyreal")
El Guapo ("PantsB")
While these were all tempting choices (especially Cabrera), with some influences from the other names above, I settled on the one name that was manlier than them all.
I'd like to introduce: Capt. Brock Slaughterhouse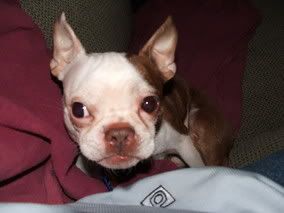 Now, if you'll excuse me, I have to go make up some business cards with the name "Clint Doomsday" on them.
-- NU50 out